Clinical Grade (Recombinant Human Serum Albumin)
Human serum albumin (HSA) is the most well studied plasma protein and an attractive macromolecular carrier due to its availability in pure form and its biodegradability, nontoxicity and nonimmunogenicity. It has a serum half-life of approximately 20 days, and is widely used as a stabilizing component in pharmaceutical and biologic products, such as vaccines, recombinant therapies and coatings for medical devices. Due to the potential existence of various infectious disease pathogens in the human blood, especially AIDS, hepatitis B and other viruses, these virus may be brought with HSA to the final products.
OsrHSA, a recombinant human serum albumin derived from rice grains, can provide an excellent solution to utilise a safer, more defined and consistent material. Compared to plasma human serum albumin (pHSA), OsrHSA has the same second and tertiary structure, physiological and biochemical properties with pHSA, while higher purity and excellent batch consistency.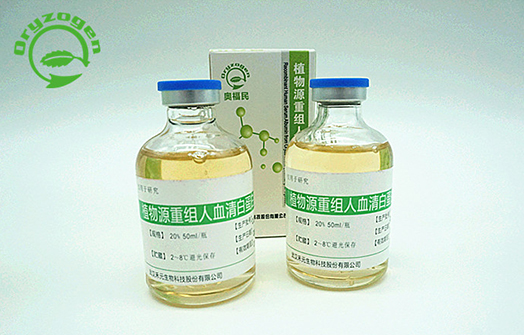 【Source】:Rice   Grain (Oryza Sativa)
【Catalog   Number】:HYC001C02
【Formulation】:Liquid
【DMF No.】:029648
【Package size】:50ml with 20% concentration
【Endotoxin】:Less than 0.01EU/mg
【Physical Appearance】:Slightly sticky, yellow or brown transparent liquid 
【Purity】:More than 99% as determined by SDS-PAGE and HPLC analysis. 
The titers of individual immunoglobulins IgG, IgM, IgE, and IgA showed no significant difference among the pHSA, OsrHSA, and saline groups, and the titers of C4 complement were not significantly different.

The OsrHSA clinical trials Phase I results showed that there were no any drug-related Adverse Event (AE), nor Serious Adverse Event (SAE) in all test groups. The highest OsrHSA intravenous injection 200mg/kg dose reached 17.8g/person, which indicated that OsrHSA had very good safety and tolerability. The rice seed bioreactor produces cost-effective OsrHSA that is safe and can help to satisfy an increasing worldwide demand for human serum albumin, thus open new doors in its applications and contribute to self-sufficiency in blood and blood products.
The main use of OsrHSA will be as a substitute for pHSA in clinical applications, but as HSA is a versatile protein. OsrHSA may eventually be used widely as:
01/ an excipient or stabilizer in other recombinant and biotechnology based products;
02/ a component in serum-free cell culture media;
03/ a formulation in vaccine and other biologicals;
04/ an agent in therapeutic apheresis;
05/ a carrier of small molecular conjugation for half-life extension;
06/ a coating reagent in medical devices.