Recombinant Insulin-like Growth Factor-1 (OsrIGF-1)
OsrIGF-1 LR3, Recombinant Insulin-like Growth Factor-1
Insulin-like growth factor-1 (IGF-1) is a hormone similar in molecular structure to insulin. It primarily functions through binding to its specific receptor, the insulin-like growth factor 1 receptor (IGF1R). IGF-1 is one of the most potent natural activators of the AKT signaling pathway, which stimulates cell growth and proliferation, and inhibits cell apoptosis. LR3 IGF-1 (Long Arg3 IGF-1) is an 83 amino acid analog of IGF-1 comprising the complete human IGF-1 sequence with the substitution of an Arg for the Glu at position 3 (hence R3), and a 13 amino acid extension peptide at the N-terminus. The LR3 IGF-1 has much higher stability and biological activity.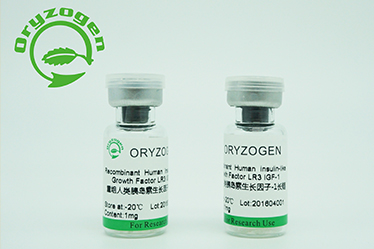 【Source】:Rice   Grain (Oryza Sativa)
【Catalog   Number】:HYC007M01
【Formulation】:It is lyophilized with mannitol as the stabilizer.
【Package size】:50ug, 1mg, 10mg
【Endotoxin】:Less than 5EU/mg
【Physical Appearance】:White lyophilized powder 
【Purity】:More than 95% as determined by SDS-PAGE. 
Molecular Weight: 8.3kD
Biological activity: The bioactivity determined by a cell proliferation assay using Bal B/C 3T3 cell, corresponding to a specific activity of ≥ 1×106 Units/mg.
Applications:
Mammalian cell culture
Cosmetic and beauty care
Healthcare products
Storage and Handling:
Stored at temperatures -20℃ for at least 24 months. It is recommended to reconstitute LR3 IGF-1 at 100-200ug/ml in sterile water. Further dilutions can be made in other aqueous buffer. Use as soon as possible after opening. Please avoid freeze-thaw cycles.
FOR RESEARCH, LABORATORY AND MANUFACTURE USE ONLY. NOT INTENDED FOR DIRECT USE ON HUMANS.
1.Bioactivity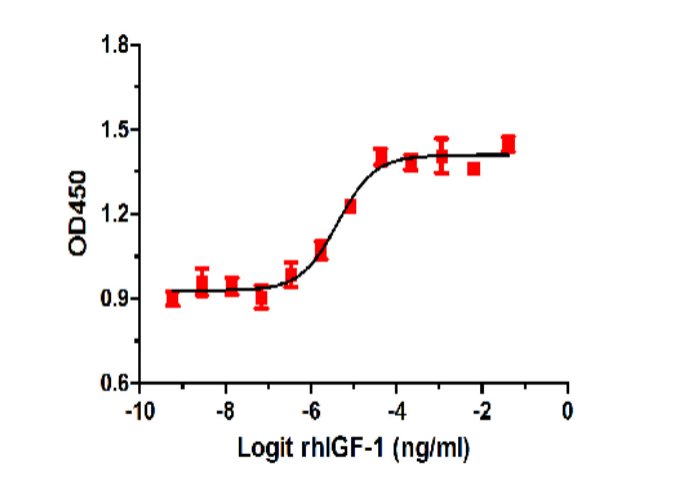 The stimulating cell proliferation of OsrIGF-1 measured using the Balb/c 3T3 cell line. The ED50  of OsrIGF-1 is less than 1ng/ml.  
2. Comparison of stimulating cell proliferation with other vendors

Comparison of stimulating ability of OsrIGF-1 with other vendors in nine days. 
3. Comparison of performance in stimulating cell proliferation over generations with another vendor

Comparison of stimulating cell proliferation activity of OsrIGF-1 with another vendor in four generations.